43 Spectacular Things to Do in Cusco & Complete Cusco Travel Guide (2023)
Not so long ago, Cusco Peru was the bustling capital of the Inca empire, the birthplace of legends, mysticism, and sacred sites. Today, it's still possible to get a glimpse into the Inca's mysterious dynasty. The grand Imperial City is protectively, yet picturesquely nestled at great heights in the Andes Mountains and is said to resemble the shape of a Puma. There are so many unique things to do in Cusco in the form of culture, food, art, and worthwhile treks.
Cusco (Cuzco) is the gateway to the famous Lost City of Machu Picchu and visiting Machu Picchu is the most popular thing to do in Cusco. However, the altitude of Cusco is a shocking 11,152 feet, so many tourists opt to "take it easy" and acclimate in Cusco for at least a few days before experiencing this bucket-list trip of a lifetime.
Luckily for acclimating travelers, Cuzco is THE ideal city for any type of traveler. From budget backpackers to luxury travelers there are plenty of top Cusco attractions to explore. Cusco really has it all including fascinating Inca ruins, museums, a tantalizing food scene, beautiful mountains, breathtaking treks, and adventure-packed day trips.
In this complete Cusco travel guide find: how to get to Cusco, things to do in Cusco while acclimating, free things to do in Cusco, food experiences to have in Cusco, top Cusco day trips and tours, Cusco hikes and best Cusco multi-day treks, where to stay in Cusco, and more Cusco travel tips!
Table of Contents
How to Get to Cusco Peru
Cusco is well connected to the rest of South America with a busy main bus station, the Cusco Terminal Terrestre, multiple collectivo stations (small vans), and the Cusco Airport. Cusco is a popular tourist destination that also offers high-end bus companies that arrive at Cusco in private bus terminals.
If already traveling in Peru, the two most common places to reach Cusco are Lima or Arequipa / Lake Titicaca Puna.
Take the slow way to Cusco with a long-haul bus trip, or catch the frequent flights to the Cusco Airport.
Lima to Cusco
Bus to Cusco from Lima
☛ Buses to Cusco from Lima are LONG and take a minimum of 21 hours no matter what bus company you choose.
Peru Hop offers daily private buses and is the most utilized bus company to get to Cusco from Lima. Peru Hop acts kind of like a long-distance "hop-on hop-off tour bus" and helps break up the tedious long trip. The buses stop at top Peru destinations like Paracas, the Oasis Village of Huacachina, and the Nazca lines.
Be mindful that since Peru Hop caters strictly to tourists, the prices are more expensive than public buses.
Alternatively, it's easy to follow the above route using local buses that stop in Ica. From there, sleep in Huacachina, visit the sights, and when ready, continue to Cusco.
Lima to Cusco Flights
The fastest way to travel to Cusco from Lima is a domestic flight. LATAM Airlines offers frequent departures to Cusco from Lima. The Budget-friendly airline SKY also flies between Lima and Cusco.
☛ The flight from Lima to Cusco only takes around 1 hour and 30 minutes.
How to Get to Cusco from Arequipa Peru
Arequipa is the second largest city in Peru and is often referred to as "Peru's white city." For some reason, Arequipa is an extremely overlooked destination in Peru. Arequipa is a UNESCO World Heritage that boasts its own unique typical cuisine. There are many top things to do in Arequipa, from visiting the colorful Santa Catalina Monastery, eating at delicious Arequipa restaurants, wandering through the diverse districts, and intrepid travelers can trek the El Misti Volcano.
The most popular place to visit from Arequipa is the Colca Canyon. The Colca Canyon is the second-deepest canyon in the World and one of the most stunning natural landmarks in Peru. Adventurous hikers can opt to explore it via a multi-day Colca Canyon trek. There are also organized full-day Colca Canyon tours that include the Cruz del Condor, a viewpoint-to-spot condors or guided Colca Canyon hiking tours.
Outside the ticketed area of the Colca Canyon, find small villages like Yanque Peru that offer little trekked day hikes, Pre-Inca ruins and tombs, and traditional culture. End the day in one of the many natural Yanque hot springs.
From Arequipa, multiple local bus companies depart the Arequipa Terminal Terrestre to Cusco. Next door is another station that has favorable bus companies like Civa and Cruz del Sur.
The bus ride from Arequipa to Cusco is long and takes about 10 to 12 hours. Remember, if utilizing buses, the roads will be windy with drastic altitude changes. For travelers who sleep well on a bus, an overnight bus to Cusco from Arequipa is ideal.
Those travelers who want a little more luxury can look into the Andean Explorer, a Belmond Train that connects Arequipa, Puno (Lake Titicaca), and Cusco. This luxury train highlights the beauty of the Peruvian highlands and is a true bucket-list experience in Peru.
☛ Browse My Ultimate Peru Travel Guide
Awesome Things to Do in Cusco While Acclimating
Travelers planning on visiting Machu Picchu should spend at least a few days acclimating to the sky-high altitude of the Andes Mountains. Cuzco City is at a staggering elevation of 11,152 feet, whereas, Machu Picchu sits at an elevation just shy of 8,000 feet.
The altitude of Cusco and the surrounding valleys (like the unmissable Sacred Valley and Lares Valley) is no joke, and the symptoms of altitude sickness can be extremely unpleasant and even deadly.
So, don't push it or worry one bit! There are plenty of unique things to do in Cusco while acclimating. In fact, there are so many Cusco tourist attractions, it's recommended to spend at least 4 days in Cusco. (But honestly, the more the better!)
Pssst…While many Cusco blogs highlight things like visiting the twelve-angled stone or taking photos with baby alpaca, this Cusco travel guide focuses on a mixture of top-rated Cusco attractions and nontouristy things to do in Cusco to better connect with this magical place.
Skip to | Free Things to Do in Cusco | Food Things to Do in Cusco | Cusco Day Trips & Tours | Adventurous Things to Do in Cusco
1 | Get Acquainted with Cusco via a "Free" Walking Tour
One of the best things to do in Cusco is to join a free walking tour. There are at least three companies that run daily walking tours.
All of the Cusco free walking tours offer a brief introduction to the complex history of Cusco City. Guides offer an insightful look at the history of the ancient Inca Empire and the eventual conquest of the city by the Spanish. The divergence of two distinct cultures is just one example of why the historic center of Cusco is registered as a UNESCO World Heritage Site.
Most tours start in the Cusco Plaza de Armas and highlight Cusco's historic center, a jaunt through the hip San Blas neighborhood, and include a mixture of "old" world sites and "new" colonial buildings.
The guides are extremely helpful and can point you in the right direction on the best things to do in Cusco, where to eat in Cusco, and more Cusco hidden gems.
➜ Most Cusco free walking tours run around 2-3 hours. Please show gratitude and love to the guides. Tipping is appreciated and expected.
2 | Be in Awe of Saqsaywaman (Sacsayhuaman)
Saqsaywaman is one of the most impressive Inca ruins in Cusco. Some of the massive stone blocks in this archaeological park are said to weigh in at around 100-200 tons each! This sacred site was an incredible building feat of the Incas and no motor was used to hold the stones together. What's even more astonishing is that the construction was completed at over 12,000 feet.
To visit Saqsaywaman you'll need the Cusco Tourist Ticket or Boleto Turístico Cusco. If acclimating in Cusco, it's worth it to buy the complete 10-day Cusco Tourist ticket, which includes over 16 Inca sites, museums, a nightly show, and more. Visit Sacsayhuaman as part of an organized tour, or intrepid travelers can visit every site independently.
➜ The most important festival in Cusco, Inti Raymi, celebrates the Sun God "Inti." The main celebration of Inti Raymi is held inside the ground of Saqsaywaman on June 24th every year.
3 | Explore More Inca Sites on the Cusco Tourist Ticket
There are three more worthwhile Cusco Inca ruins located near Sacayhuaman and entrance to these sites is included with a Cusco Tourist Ticket!
➤ Q'enqo is just down the road from Saqsaywaman, and although small, this significant site was possibly used as a place where sacrifices took place.
➤ Puka Pukara translates to the "red fortress" and is perched on top of a lovely hill.
➤ Across the street from Puka Pukara is Tambomachay, a peculiar site that has Inca water fountains. It is unknown what Tambomachay was used for, but archaeologists believe it could have been a royal spa, for sacred ceremonies, or maybe a military outpost.
Exploring the Cusco Tourist Ticket is one of the best things to do in Cusco while acclimating!
✔ Cusco Travel Guide | How to Visit All 16 Sites of the Cusco Tourist Ticket Without a Tour
4 | Discover Qorikancha "Gold House"
Travel Deeper in Peru | 32 Unique & Famous Peru Landmarks to Visit
Qorikanca is a must-see Cusco attraction. At the height of the Inca empire, Qorikancha, or Coricancha was the most important Inca temple in the entire dynasty. Qorikancha translates from the Quechua language to "golden house," and this iconic temple was built for the Sun God Inti. Inside the Sun temple was another shrine to honor the Moon, or "Killa," the wife of Inti.
During the Inca's prime, it is believed that the entire Qorikancha temple was lined with gold. There were legends of an unreal golden garden that was decorated with dazzling gold sculptures and ornate figures. When the Spanish conquered the Imperial City of Cusco, they melted down most of the gold relics and built a church on top of the Inca temple of Qorikancha.
Today, Qorikancha is a museum and a Convent. The Convent of Santo Domingo is still home to a handful of nuns who reside here. The Qorikancha museum is interesting and has information boards in English to help bring this place to life as to what is must have been like during the height of the Inca empire, a temple of gold.
There are rumors that many of the valuables from the gold temple were hidden by the Incas and have not been found yet to this day. Qorikancha can be visited independently or is often included on Cusco city tours.
Qorikancha | Cost: 15 PEN ($4) | Hours: Monday – Saturday 8:30 – 17:30, closed Sunday | Find Qorikancha here: Plazoleta de Santo Domingo Cusco
➜ Here's a popular half-day Cusco Tour that includes Qorikancha & 4 Cusco Inca Ruins
5 | Enjoy Cusco's Stellar Museum of Pre-Colombian Art
Cusco is blessed with a wide range of museums and strolling through the museums is the perfect activity to do while acclimating in Cusco. If you only have time to visit one museum in Cusco, make it The Museum of Pre-Columbian Art, or Museo de Arte Precolombino (MAP). Visiting the Museum of Pre-Colombian Art is one of the more cultural things to do in Cusco.
This extremely well-done Cusco museum shines a light on artifacts found in Peru that date back over 3,000 years ago. While visiting the museum, you'll move through the diverse regions and cultures of Peru via pottery, dishes, jewelry, and so much more. There is a small section of art showing the effects of the Spanish conquest.
What's great about MAP is that it's open late, so it makes for an ideal thing to do in Cusco at night.
MAP | Cost: 20 PEN ($5.50 USD) | Daily: 8:00 – 22:00 | Find them here: Nazarenas Plaza #231
6 | Stop by the Museums on the Cusco Tourist Ticket
If you have the Cusco Tourist Ticket, the following museums are included with the complete Cusco Tourist Ticket or circuit II of the ticket: Regional History Museum of Cusco, Museum of Contemporary Art, Museum of Popular Art, and the Museum of Qorikancha (not the main Qorikancha temple),
All of these museums are quite small, but the Regional History Museum has lots of interesting artifacts and the mummies with the altered skulls at the Museum of Qorikancha are worth a peek. Sadly, for now, the other Cusco museums are lacking valuable resources and your time can be utilized on better things to do in Cusco.
If interested in the signature Peruvian clay figurines, skip the museum and visit a local artisan shop. The art galleries are free to enter and the displays are oftentimes larger and more memorable.
☛ I especially enjoy the Peruvian artisan shops that line the San Blas church and plaza. Arte Olave is on the left side of the San Blas Plaza and offers a huge collection in a beautiful colonial building and steps away from the picturesque San Blas Plaza.
7 | Cusco Planetarium
The Cusco Planetarium is one of the best things to do in Cusco at night time. The family-run planetarium explains how that stars and astrology influenced ancient cultures that came long before the rule of the Incas. All Cusco Planetarium tours include a chance to gaze out at the real Andean sky and are accompanied by stories and legends of the past.
☛ Book a Tour to the Cusco Planetarium
8 | Apukunaq Tianan
Apukunaq Tianan is located on the hillsides above Cusco and is one of the newer things to do in Cusco. The name translates to "Adobe of the Gods" and showcases animals and other important cultural deities carved from the mountainside.
Be mindful that Apukunaq Tianan is a work in progress and an ongoing construction site. The admission ticket has recently increased, too.
Apukunaq Tianan | Cost: 15 PEN ($4) | Hours: Daily, 8:30 – 17:30 | Find Morada De Los Dioses here | Facebook Page
Free Things to Do in Cusco
One of the best things about Cusco is that there are tons of budget-friendly activities and free things to do in Cusco!
9 | Chill-out in the Cusco Plaza de Armas
The historic Plaza de Armas in Cusco feels like the cozy and inviting living room in Cusco. Encircling the picturesque plaza are two iconic churches: the Cusco Cathedral and Iglesia de la Companía de Jesús.
The Cusco Plaza de Armas is lined with multiple coffee shops, outdoor gear shops, Cusco tour companies, restaurants with views, and plenty of women repeatedly asking if you'd like a massage. The plaza dons a central large fountain with benches and garden-filled green spaces.
A majority of the restaurants in the main square have cute terraces hanging from the impressive colonial buildings. For the best authentic experience, do as the locals do, and plop down on the staircase in front of the Cusco Cathedral to people-watch.
The Plaza de Armas is busy all day and into the night, when the street lights turn on and the street food vendors come out.
More Cusco Plazas Worth a Mention
While the Plaza de Armas is Cusco's main square, these plazas are quieter and make a nice relaxing thing to do in Cusco.
➤ Plaza de San Blas
➤ Plaza de Nazarenas
➤ Kusipata de Plaza
➤ Plaza de Belén
➤ Plaza de Tricentenario
10 | Stumble Upon a Parade or Festival
Speaking of Plazas, if visiting on the weekend or near a holiday, you're more than likely to witness a civic parade being celebrated throughout the streets and plazas. These parades usually highlight regional music and traditional clothing and start from the Plaza de Armas.
Watching a civic parade is one of the more unique things to do in Cusco.
11 | Stroll the Cobblestone Streets of the San Blas Neighborhood
San Blas neighborhood is a must-see place in Cusco. This very bohemian neighborhood in Cusco is filled with a plethora of eclectic coffee shops, boutique clothing shops, vegan restaurants, swanky bars, and awesome viewpoints.
Oh, and because it's built on the hillside, don't forget about ALL those stairs that will literally leave you breathless…..
San Blas is extremely picturesque with white facade colonial buildings, cobblestone streets, plazas with fountains, parks with Inca ruins, and the small, yet lovely San Blas Market with a significant church. The whole area is charming.
If looking for an epic Cusco viewpoint, head over to the San Blas Mirador.
Although it's a favorite among the expat community, the San Blas neighborhood is still very much lived in by the local people. Hidden among the small twisting streets are authentic eateries serving up 5 sole lunch menus and dozens of neighborhood tiendas.
There are neighborhood dogs casually walking the streets, so don't forget to glance down once in a while, or you may find an unpleasant present stuck on your shoe.
12 | Appreciate the San Blas Mirador
Mirador translates from Spanish to lookout points. Since Cusco is built along the mountains, it is blessed with many diverse and incredible viewpoints. One of the best viewpoints in Cusco is the San Blas Mirador.
The San Blas Mirador is often quiet and filled with couples sharing a bench. Look for the locks that have accumulated on the metal poles.
The views from the San Blas Mirador may be worth a million bucks, but it's one of the best free things to do in Cusco.
13 | Enjoy the Cusco Views with Cristo Blanco
Overlooking all of Cusco with his arms spread wide is Cristo Blanco. This white statue of Jesus towers over 25 feet tall. Cristo Blanco boasts stunning views of Cuzco and seems to resemble Brazil's, Christ the Redeemer. However, this statue was a gift from the Palestine refugees who the Peruvians welcomed with open arms.
Cristo Blanco has resided on Pukamoqo Hill since he was erected there in 1945. The statue is within close proximity to Saqsaywaman, so catch the popular Cusco ruins from another angle.
14 | Wander the Picturesque Siete Borreguitos Street
Siete Borreguitos is the self-claimed most beautiful street in Cusco and for good reason. The street is lined with flower pots and weaves up a staircase.
Find it one block away from the lovely Sapantiana Park and the old Sapantiana Aqueduct.
All of these Cusco points of interest are free to visit.
15 | See the Old Acueducto Fortaleza
Down the road from the Morada De Los Dioses site is an ancient aqueduct. This colonial aqueduct is over 400 years old and originally transported water from Laguna Piuray to Cusco. Today, it isn't super well maintained but makes for a kind of cool thing to do in Cusco.
16 | Spend Quality Time at Q'enqo Chico
One of the best viewpoints in Cusco can be found at the top of the stairs of the San Blas neighborhood. Q'enqo Chico is an awesome park that sits below the Inca site of Q'enqo and has epic Cuszo views, free Inca ruins, and towering eucalyptus trees.
This space is an excellent place to relax, enjoy the green space, take a nap, or read a book or journal. Pack a picnic to truly one of the best free places in Cusco!
17 | Appreciate the Mirador de Plaza San Cristobal
Again, the best things to do in Cusco are generally free and the San Cristobal Mirador is no exception. Like all plazas in Cusco, the San Cristobal viewpoint has a church, is on the hill, is encompassed by the mighty Andes Mountains, and provides magnificent views of Cuzco.
☛ Find the Mirador de Plaza San Cristobal here
Foodie Things to Do in Cusco
Of course, one of the best things to do in Cusco is to eat!
Cusco has a diverse culinary scene and it's possible to eat your way through the city from breakfast to dinner in a variety of venues and establishments.
Here's how to spend a typical day eating in Cusco…
Start with a coffee, coca tea, or maybe a sweet treat. Visit one of the bustling city markets and enjoy fresh squeezed juice and breakfast. For lunch, savor a daily menu del dia.
After a fun day of exploring all the best things to do in Cusco, savor a sunset with a beverage in hand and eyes on the mountains. Additionally, some of the best food in Cusco comes from the street vendors in Cusco.
Now that you know how to eat in Cusco, here are the top foodie things to do in Cusco.
18 | Enjoy Coffee from a Top Rated Cusco Coffeeshop
Start the morning in Cusco with freshly brewed coffee. Coffee options include sipping a cup of joe from a modern Cusco coffee shop, or grabbing a pastry and a cup of coffee from a local bakery. Don't forget about all the delicious and totally affordable breakfast stalls in every single one of the Cusco markets.
Unmissable Modern Cusco Coffee Shops
➤ Three Monkeys Coffee Company
Cusco Bakeries that Serve Coffee
Local Coffee in Cusco
In the popular San Pedro Market, grab a coffee in the desayuno (breakfast) stands and order a "pan de nata." Pan de Nata is a piece of bread that is served with a side of rich cream. The nata, or cream, is made from milk and occurs naturally before it turns into butter.
I only saw this delicacy of Pan de Nata being served in the San Pedro Market. Find locals dipping the rich bread and cream in their coffee or in a hot chocolate.
Although rich, this breakfast treat is cheap and as local as it gets!
19 | Visit the Awesome Cusco Markets
One of the most authentic things to do in Cusco is to eat and visit a traditional Peruvian market. Life revolves around the markets in Peru, so even if you don't need anything, go to one to simply experience and observe the hustle and bustle of everyday Peruvian life.
At any of the Cusco markets find everything you need from gorgeous local produce, fresh cut meats from the butchers, nuts and seeds, coffees and chocolates from the jungle, specialty Chinese products, and miscellaneous items like pasta and toilet paper. Don't miss the beautiful fresh flowers
In Peruvian markets, it's common to see women out doing the shopping. More than likely they wear traditional clothing with a baby wrapped lovingly on their backs.
The San Pedro Market is the busiest market in Cusco and is frequented by locals and tourists alike. In the San Pedro market, find tons of stalls with tourist souvenirs like sweaters, clothing, mittens, wall hangings, and any kind of trinket that reminds you of those magical days in Peru.
For a totally local experience, try the Huancaro Market. Expats love the small, but bright San Blas Market.
Don't leave Peru without stepping in at least one local market!
☛ Local Tip | Any vendor in the market or tienda is often referred to as a casera (female)/casero (male). In theory, the seller would want to keep you as a regular customer, so they would "throw in something a little extra." For example, if buying fresh fruit, the casera may throw in a few bananas or oranges, free of charge, encouraging you to return them for future purchases. Try using the word as a greeting! ¡Hola, casera!
20 | Eat a Hearty Menu del Dia for Lunch
Menu del dias, or lunch menus are a MUST-DO food experience in Cusco, or anywhere in Peru for that matter.
One of the best places to eat a menu del dia within Cusco is at one of the markets, like the San Pedro Market or San Blas Market. Another location in Cusco that serves up a wide range of budget-friendly menus is on the street of Avenida Tullumayu, between the streets of Ruinas and Plaza Limacpampa.
✔ Cusco Food Guide | Where to Eat in Cusco & Best Cusco Restaurants
What is a Menu del Dia?
A menu del dia usually consists of a starter, a main plate of food, and a tea (mate). The starter is almost always a soup but can vary from place to place. Menus in Cusco are served daily but rotate day to day. The prices for a menu del dia range from 4 – 10 soles and are extremely hearty! Menus can be offered at dinner time, but at dinner, the price may be higher.
21 | Take a Peruvian Cooking Class
If are loving all the Cusco cuisine, why not take a Peruvian cooking class? A Cusco cooking class allows you to bring Peru back home with you in the form of delicious culinary delights.
One of the most popular things to do in Cusco is to take a cooking class!
22 | Try Chifa
One of the unique food things to do in Cusco is sample Chifa dishes, which are a fusion of Peruvian and Chinese cuisines. People visiting Cusco may not realize the major influence Chinese immigrants played on Peruvian food.
Three of the most popular Chifa dishes are Chaufa, Tallarin, and Lomo Saltado. Chaufa is essentially a friend rice, whereas Tallarin is like a delicious noodle stir-fry. Lomo Saltado is a simple beef stir-fry with peppers and onions, covered in a soy-based sauce.
23 | Experience the Cusco Nightlife
After exploring all the awesome things to do in Cusco, you may be ready to relax with an adult beverage in the form of a microbrewery, glass of wine, or Peru's beloved specialty drink, the Pisco Sour. There are a variety of places to experience the diversity of Cusco nightlife.
Try out these top places to drink in Cusco
🍺 For Microbrews in Cusco visit Cholos Craft Beers Cusco
🍷 Sip on a Glass of Peruvian Wine at Hanz Craft Beer with excellent views of the Plaza de Armas, too!
🥃 Viewhouse in San Blas has yummy Pisco Sours and even better views
🔥 Chango Nightclub is a spirited place to dance into the wee hours of the morning in Cusco
➜ Tecsecocha Street is a lively street with bars, clubs, late-night eateries, and an energetic nightlife scene
💬 Real Talk | Due to the high altitude of Cusco, remember to be mindful and enjoy alcoholic beverages responsibly. Oftentimes the mix of altitude and alcohol can impair and affect people more quickly and severely.
24 | Eat Peruvian Street Food
One of the best foodie things to do in Cusco is to eat street food. Some of the most memorable meals in Cusco come from vendors out selling on the street, or from the women who hop on the buses selling homemade food with love.
➜ Street food is quick, easy, and usually costs S/ 1.
Cusco Street Foods You Have to Eat
➤ Emoliente, a tea with digestive medicinal properties that is best drank after eating
➤ Tamales, either sweet or savory, but always wrapped in a corn husk
➤ Choclo con Queso, Peru's very own Andean corn with a slice or two of fresh soft cheese
➤ Papa a la Huancaina, Potatoes, egg, and a garnish of olive in spicy yellow sauce
➤ Ice Cream, the best Cusco ice cream is usually from the women carrying white coolers in the streets
Awesome Cusco Day Trips & Tours
From the Lost City of Machu Picchu, to Rainbow Mountains and unreal turquoise glacial lakes, some of the best things to do in Cusco are the unbelievable day trips just outside the Imperial
City.
25 | Visit the Most Famous Landmark in Peru Machu Picchu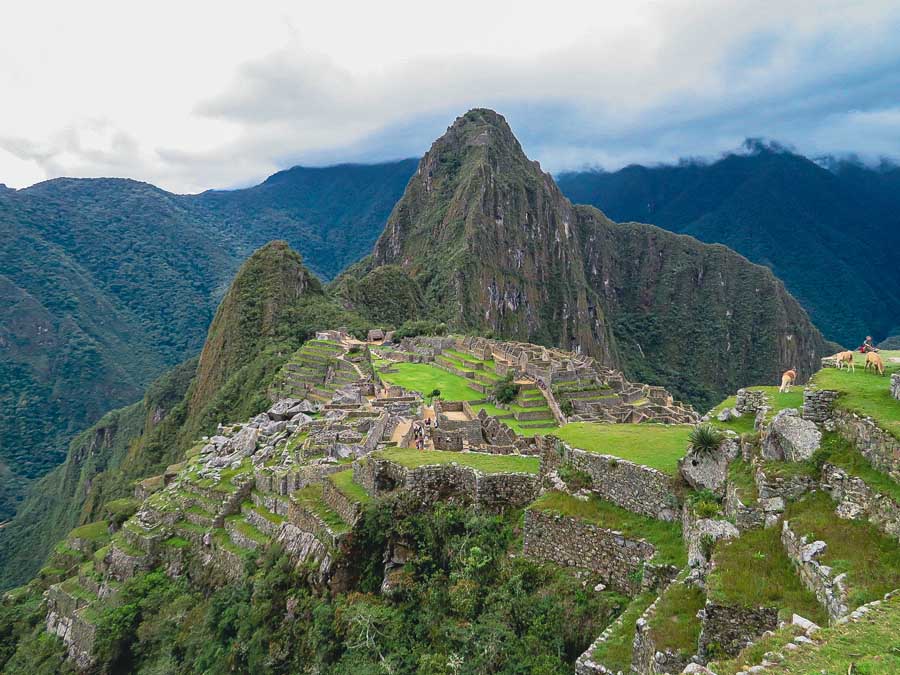 Machu Picchu is an iconic symbol of South America and one of the most famous landmarks in Peru. Rediscovered in 1911 by Hiram Bingham III, the once Lost City of the Incas is not so hidden these days. Thousands of tourists visit every day to step foot in this impressive modern-day wonder of the world. (Machu Picchu is one of seven).
Machu Picchu is nestled along the Urubamba River Valley and sits above the small village of Aguas Calientes, or Machu Picchu Pueblo.
Today, you don't need a guide to enter the Inca citadel, but you will need an entrance ticket arranged beforehand. Machu Picchu is a sacred mountain and besides marveling at the mysterious Inca ruins, there's an opportunity to climb one of the two mountains inside the complex: the iconic Huayna Picchu or Machu Picchu Mountain. These steep hikes must also be arranged before entering Machu Picchu.
➯ Detailed Peru Travel Guide | 35+ Inca Sites in Peru You Need to Visit
Visiting Machu Picchu can be done as a full-day trip from Cusco independently or as a full-day tour.
The most expensive, yet comfortable way to reach Machu Picchu is via train. There are two railway companies that depart Cusco to Machu Picchu: Inca Rail & PeruRail. Both of these Peruvian railway companies have multiple daily departures and range from moderate to luxury prices.
Another popular way to reach Machu Picchu is via collectivos, or small shared vans. These mini buses take around 5 – 6 hours and drop at the Hydroelectric Plant. From there, it's a 5 mile walk into Machu Picchu Pueblo.
Visiting Machu Picchu is the ultimate bucket list thing to do from Cuzco.
Machu Picchu Tours
One of the easiest ways to reach Machu Picchu is with an organized tour company. The tour from Cusco is a full day.
Top Machu Picchu Treks
One of the most famous ways to reach Machu Picchu is on a trek. The famous Inca Trail can is highly regulated and can only be hiked as part of an organized tour. The Classic Inca Trail takes four days and enters the Inca Citadel at the Sun Gate, or Inti Puntu Machu Picchu. There is now an option for a Short Inca Trail trek that follows the Inca Trail and is only 2 days.
➜ There are numerous alternative treks to Machu Picchu. More on Cusco trekking routes here
26 | Spend the Day in the Sacred Valley (Valle Sagrado)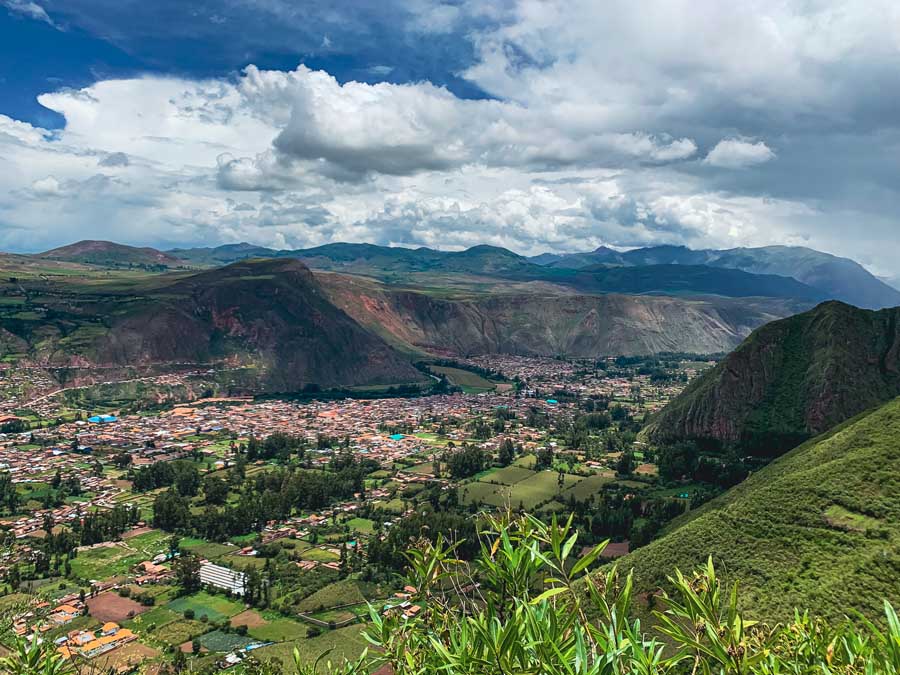 The Sacred Valley in Peru is found in the Urubamba River Valley. The Valle Sagrado is one of the most beloved day trips from Cusco. Visit the small villages that follow the Urubamba River and are surrounded by the glacial peaked Andes Mountains. In the Sacred Valley find everything from artisan markets to impressive archaeological sites and epic hiking trails.
There are so many things to do in the Sacred Valley, but tours from Cusco will stop at the four Inca ruins of Pisac, Moray, Chinchero, and Ollantaytambo.
➤ Pisac is a cute village that has a daily artisan market, small twisting streets, and awesome cafes and restaurants. The Pisac Inca ruins are divided into two sectors and found on the hillside above the village.
➤ Moray is near the village of Maras and has unique Inca ruins. These circular Inca ruins are said to be experimental agricultural terraces. Maras also is where the photogenic Maras Salt Mines are.
➤ Chinchero was the former palace of the famous Inca conquerer, Tupac Inca Yupanqui. After the Spanish conquered Chinchero, a church was built on top of the former palace. Chinchero is also known for its beautiful weavers and an array of handicrafts can be purchased from the women selling in the center of the Chinchero ruins plaza.
➤ The Ollantaytambo ruins have Inca terraces, the peculiar Temple of the Sun, a Water Temple, and the viewpoint of Inkawatana. This hillside fortress offers incredible views of the picturesque village of Ollantaytambo.
☛ Remember, to enter the above Sacred Valley Inca ruins, you'll need a Cusco Tourist Ticket, either the 10-day ticket or Circuit III for the Sacred Valley ruins only.
Popular Sacred Valley Tours
Sacred Valley Travel Tip
Peru's Sacred Valley is so incredible and warrants more than just a day tour. Don't skip the Sacred Valley!
Oftentimes, travelers who end up taking a day trip to the Sacred Valley can feel rushed and ultimately disappointed.
There is so much to see and do in Peru's Sacred Valley, so if you have the time, try to spend at least 4 days in the Sacred Valley.
27 | Get Off the Beaten Path Hiking in Ollantaytambo
One of the most charming villages in Peru is Ollantaytambo which is filled with Inca ruins, artisan shops, and amazing places to eat. The village has a train station that leads to Machu Picchu, so most travelers only spend a few hours here. However, some of the best Sacred Valley hikes start right from the Ollantaytambo Plaza de Armas.
Of course, the most famous trek is the Classic Inca Trail to Machu Picchu. Intrepid hikers shouldn't miss the uphill climb to Inti Punku, or the Sun Gate of Ollantaytambo. At the top, find one small gate, but breathtaking views of Mount Veronica.
From Ollantaytambo, hikers can also visit the unique Pumamarca ruins, which are said to resemble the shape of a Puma and were originally built by the Wari, a Pre-Inca civilization. Walk along an Old Inca road to the village of Pachar, where it's possible to visit the sacred cave of Ñaupa Iglesia or hike up to the Perolniyoc Waterfall and Rayqapata ruins.
✔ Peru Travel Guide | The Best Hikes in the Sacred Valley Peru
28 | Maras Salt Mines & Moray Inca Ruins
Another day trip from Cusco is to visit the Maras Salt Mines and Moray Inca ruins. There are many Cusco tour companies that offer organized ATV tours to these two Sacred Valley attractions.
Personally, the full-day hike from Maras to Moray is beautiful and tranquil, when no ATVs are zipping by. 😉
🥾 Hiking Guide | Hike the Maras Salt Mines to Moray Inca Ruins
29 | Explore the Pisac Ruins & the Artisan Market
Pisac Peru is the closest village in the Sacred Valley to Cusco, so it's one of the easiest day trips from Cusco. The Pisac ruins are separated into two sectors and if the bottom sector isn't closed due to landslides, it's possible to hike the ruins right from the Pisac Plaza de Armas.
Alongside the stunning Inca ruins, Pisac has a daily artisan market. This is the place to shop for your favorite Peru souvenirs. Pisac also has a local market that serves up a budget-friendly menu del dias. If looking for something different to eat in Pisac, enjoy the many coffee shops, a pizzeria, and a microbrewery.
One of the best things to do from Cusco is visit Pisac for the day.
➯ Travel Deeper | Visit Kinsa Cocha, the Three Lakes of Pisac
30 | Trek to Huchuy Qosqo "Little Cusco"
Another unique Sacred Valley hike is to Huchuy Qosqo, or Little Cusco. There are many trekking routes to Huchuy Qosqo from full-day hikes to a two-day trek from the Tambomachay ruins in Cuzco.
Huchuy Qosqo was rumored to have been the palace grounds of the Inca Emperor Viracocha. Within the grounds of Huchuy Qosqo, find stunning terraces, a ceremonial fountain, and breathtaking views of the Andes Mountains.
🥾 Hiking Guide | Huchuy Qosqo Trek Routes & Map
31 | Discover Hidden Gems in Urubamba
Urubamba feels more like an authentic village in the Sacred Valley, due to the fact that the day tours bypass this hidden gem. Urubamba is a larger village, but what it's lacking in charm is made up for with all the awesome things to do here.
Urubamba has a massive weekly market and a bustling daily mercado. There are tons of free Inca ruins to visit.
Perched on top of the hills, Saywa is a spectacular day hike in Urubamba with two peculiar stone pillars and sweeping views of Mount Chicon and the Urubamba Valley.
Adventurous hikers can visit the hidden alpine lake of Laguna Juchuycocha, but it's a full and challenging day hike.
There are also short hikes in the village up to the cross-view point and to the free hillside ruins of Las Chullpas.
Urubamba is a must-visit with two plazas, unique artisan shops, hip coffee shops, and delicious restaurants.
Don't miss visiting Urubamba Peru, an underrated gem in the Sacred Valley!
32 | Day Trip to Picturesque Laguna Humantay
One of the most popular things to do in Cusco is take a day trip to Laguna Humantay. This bright turquoise glacial lake is a short hike from the village of Soraypampa. Along the path, expect stunning views of the snowcapped mountains, including distant views of Salkantay.
Laguna Humantay is usually a stopping point along the Salkantay trek but is a popular day trip for those who don't want to trek the entire 4-day route.
33 | Explore the Cusco South Valley
The scenic Cusco South Valley is often overlooked by most tourists visiting Cuzco. The impressive ruins of Tipón and Pikillacta are part of the Cusco Tourist Ticket, yet probably the least visited sites on the entire ticket.
Both Tipon and Pikillacta can be reached easily via a frequent city bus. The Tipón ruins boast interesting aqueducts and Inca canals, while Pikillacta is the only Pre-Inca site on the ticket.
Just down the road from Pikillacta, don't miss the Rumicola Gate, which was the ancient entrance city gate to the Imperial City of Cuzco.
Farther down the road in the South Valley of Cusco, find the lovely village of Andahuaylillas. This village is home to The Church of Saint Peter the Apostle, which is nicknamed the "Sistine Chapel of the Americas."
✔ Cusco Travel Guide | Explore Cusco South Valley as a day trip from Cusco
34 | Visit the Colorful Rainbow Mountain
The famed Mountain of Seven Colors has become one of the most popular things to do in Cusco The hike to Rainbow Mountain takes a few hours and climbs to a lookout point that is a staggering 16,522 feet. If visiting as a day trip from Cusco, it's essential to be properly acclimated.
At Rainbow Mountain, savor stunning distant views of Ausangate Mountain. Many locals provide opportunities to take photos with alpacas dressed in colorful decorated clothing. If you have time, don't miss the nearby Red Valley, which feels like stepping onto Mars.
➜ Cusco Rainbow Mountain Full Day Tour
35 | Hike the 7 Lagunas Ausangate
Speaking of Ausangate, another up-and-coming adventure day trip from Cusco is the 7 Lagunas Ausangate. This day hike is an alternative way to experience the beauty of Ausangate Mountain without taking a grueling multi-day trek.
The 7 Lagunas Ausangate hike passes by seven alpine lakes. Tours start from the small village of Pacchanta, which also has some simple, yet healing Peru hot springs. The views of Apu Ausangate are unforgettable.
It's important to be properly acclimated if planning on hiking the 7 Lagunas Ausangate as the trail never dips below 4,000 meters.
➜ Book a 7 Lagunas Ausangate Tour
36 | Discover Palccoyo the Alternative to Rainbow Mountain
With the popularity and crowds flocking to Rainbow Mountain, Palccoyo has become a popular place to visit. It's best to visit with an organized tour since Palccoyo is much further south from Cusco.
37 | Marvel at the Waqrapukara Ruins
Moreover, Machu Picchu, the horned fortress of Waqrapukara may just be the most epic Inca site in all of Peru. Believe it or not, the peculiar Waqrapukara ruins reach almost 13,000 feet. That's nearly twice the altitude of the Lost City of Machu Picchu. Hike to the top of this sacred site for a small entrance fee of only 10 PEN. Wander along the Inca terraces and small caves and gaze out into the scenic Apurímac Valley.
It's possible to visit Waqrapukara as a long-day tour from Cusco. Intrepid hikers may wish to tackle a 2 day Waqrapukara trek. Entrance fee to the ruins includes the use of simple toilets, access to water, and a chance to camp at one of Peru's most epic Inca sites.
38 | Visit the Birthplace of the Incas (Well, Maybe)
There are two fascinating legends and myths that surround the origins of the Incas. The first, and most common, is that the first Incas rose from the depths of Lake Titicaca. The second is they crawled out from the cave system at Puma Orqo, the mystical cave near Maukallacta. Whichever story you choose to believe, Maukallacta is a worthwhile day trip from Cusco.
The sacred site can be reached via collectivos from Cusco. Take the scenic hike to Puma Orqo past the cave system. Look for the decapitated Puma which is perched on the top of the cave.
After that, walk less than a mile to Maukallacta. The most impressive thing here is the section of the site with 9 triple doors, which signifies how sacred Maukallacta truly is.
Maukallacta is located in the beautiful mountains and sees hardly any tourists. This important Inca ruin is free to visit and makes for one of the best day trips from Cusco.
🥾 Complete Hiking Guide | How to Visit Puma Orqo & Maukallacta as a day trip from Cusco
39 | Soak in Lares Hot Springs
Finally, after all these epic things to do in Cusco, you may be looking to TRULY relax. Unwind and appreciate the sizzling Lares hot springs.
Don't expect the Lares hot springs to be luxurious, but rather an authentic bathing experience in a spectacular mountain setting. Find hot showers next to a few pools that range in temperature. The water appears yellowish from all the rich minerals found in the water. There is a small cooling pool located next to the beautiful river.
The Lares hot spring complex is surrounded by a garden, which has places to pitch a tent or enjoy a picnic. Onsite are a few guest rooms because these hot springs are open 24 hours!
Lares is located in the Lares Valley, which can be reached from the village of Calca in the Sacred Valley. An intrepid way to reach the Lares hot springs is to take this intrepid one day trek through the Lares Valley.
✔ Peru Travel Planning | 14 Amazing Peru Hot Springs You Have to Experience
Trekking Cusco & Top Multi-Day Cusco Treks (Adventurous Things to Do in Cusco)
One of the best things to do in Cusco is to hike and plan for some of the top multi-day Cusco treks.
40 | Hike to the Free Inca Ruins Around the City
While Cusco has the famous Inca ruins of Saqsaywaman, Q'enqo, Puka Pukara, and Tambomachay, which is part of the Cusco Tourist Ticket, there are other interesting and free Inca ruins in Cusco that see barely any tourists.
One of the most impressive and free Cusco Inca sites is Inkilltambo. Found in the non-ticketed area of Saqsaywaman Archaeological Park, this hidden gem in Cusco is worth a visit. Besides Inkilltambo, the ruins of the Temple of the Moon and the Temple of the Fly are also spectacular.
Visiting the free Cusco Inca ruins makes for an excellent half-day hike in Cusco and includes all of the above sites and more! Hiking to these Inca ruins in Cusco is one of the more non-touristy things to do in Cusco.
41 | Climb Cerro Picol the Tallest Peak in Cusco
A strenuous, yet stunning day hike in Cusco is up one of the city's tallest mountains, Cerro Picol (Cerro Pikol). This Cusco mountain towers high above the Imperial City of Cuzco at over 14,500 feet!
The trailhead for Cerro Picol can be found in the San Jerónimo District of Cusco, in the green and beautiful Santa Maria Forest. Hiking up Cerro Picol offers some of the most epic city views of Cusco. At the top, it's possible to see views of the glacial mountain peaks in the Sacred Valley.
This day hike in Cusco is challenging, so make sure to be properly acclimated and always hike with a buddy.
🥾 The Complete Hiking Guide | How to Hike Cerro Picol, Cusco's tallest peak
42 | Plan for an Epic Cusco Trek
One of the best things to do in Cusco is to go on an unforgettable multi-day trek. There are endless hiking trails to choose from, but here are only three of the top Cusco multi-day treks.
➯ Detailed Cusco Trekking Guide | 10 Best Cusco Multi-Day Treks
➤ The Ausangate Trek is one of the most incredible treks near Cusco. This high-altitude trek circles around Apu Ausangate and never dips below 14,000 feet. Highlights of the Ausangate trek include hot springs, wild landscapes, colorful alpine lakes, thousands of free-roaming alpacas, and a chance to visit Rainbow Mountain without the crowds.
The Ausangate trek is spectacular and continues to top the best treks in the world list year after year.
🥾 Ausangate Trek Quick Statistics | Point to Point Trail | Difficulty: Extremely Challenging | Distance: 45 miles with Rainbow Mountain add-on (72.5 km) | Average Duration: 5 – 7 days | Permit Required: No, but there is a 10 sole entrance fee ($2.75) and locals may ask for varied camping fees per person along the route | Guide Required: No, the Ausangate trek can be hiked independently or Book an Organized Ausangate Trek Tour | Ausangate Trek Map
➤ The Salkantay Trek is an extremely popular alternative trek to Machu Picchu. The Salkantay trek highlights include a stop at the glacial lake of Laguna Humantay, hiking the Salkantay Pass at 15,092 feet (4,600 m), and trekking through diverse landscapes including a lush cloud forest.
🥾 Salkantay Trek Quick Statistics | Point to Point Trek | Difficulty: Challenging | Distance: 46 miles (74 km) | Average Duration: 4 – 5 days | Permit Required: No, but Mollepata village charges a 10 sole entrance fee ($2.75) | Guide Required: No, Salkantay trek can be hiked independently or Book an Organized Salkantay Trek Tour
➤ The Choquequirao Trek leads to another Lost Inca City that was known as the "Cradle of Gold." The trek to Choquequirao is remote and sees less than an average of 20 visitors a day. The Lost City of Choquequirao lies hidden in the mountains and is only accessible by foot via a two-day trek.
The Choquequirao trek changes in drastic elevations, twists through the mountains, crosses rivers, and passes through tiny villages.
🥾 Choquequirao Trek Quick Statistics | Out & Back Trail | Difficulty: Challenging | Distance: 18 miles each way (29 km) / 36 miles round trip (58 km) | Average Duration: 4 – 5 days | Permit Required: No, but the Choquequirao Archaeological Park requires a 60 sole entrance fee ($15.75) | Guide Required: No, the Choquequirao trek can be hiked independently or Book an Organized Choquequirao Trek Tour | Choquequirao Trek Map
☛ Psst… All roads really do lead to Machu Picchu. The Choquequirao to Machu Picchu trek is another alternative trek to Machu Picchu that is best suited for confident and more advanced hikers looking to get truly off the beaten path.
Tips for Trekking Cusco Responsibly
➤ Don't underestimate the altitude and make sure to take time to be properly acclimated. Chew coca leaves or pick up altitude sickness pills over the counter from the pharmacy.
➤ Never hike alone. If you need a hiking buddy, reach out to the useful Hike Club Cusco Facebook Group. Share your trekking route with friends and family.
➤ At this altitude, Be mindful that the weather can change fast and it's possible to cycle through every single season in an hour.
➤ Stay on the hiking trails, leave no trace, always carry the proper gear, dress in layers, and never leave without a first-aid kit, emergency blankets, headlamp, and whistle.
➤ One of the best things to do in Cusco is hiking. Enjoy the incredible mountains and always respect them.
✔ Peru Packing Guide | Packing List for Peru Multi-Day Treks and Adventures
➯ Hey… don't forget your Travel Insurance! I love SafetyWing
Where to Stay in Cusco
Cusco offers a wide range of sleeping options from budget, mid-range, and of course, travelers looking to splurge on luxury accommodation. Here are some of the best places to stay in Cusco while checking off your bucket list of things to do in Cusco.
Budget-Friendly Cusco Guesthouses
Mid-Range Cusco Guesthouses & Hostels
Where to Sleep in Sacred Valley Peru
I highly recommend staying in the Sacred Valley if you can budget for a few days. The best places to stay in the Sacred Valley are the villages of Pisac, Urubamba, and Ollantaytambo.
Cusco Travel Guide & Helpful Travel Tips
In the not-distant past, Cusco was the heart and soul of the Inca dynasty and was said to have been built to resemble the shape of the sacred earthly animal of the Puma. In Inca culture, the condor (heavens) and the snake (underworld) were also significant iconic creatures. These three powerful spirit animals of the Incas can still be seen throughout the city of Cusco, especially in Inca sacred sites.
Eventually conquered by the Spanish, the city is a unique fusion of the two cultures. However, many of the Cusqueños (people from Cusco) have strong ties to their Inca roots, and it's not uncommon to hear Quechua being spoken, especially by the elderly.
Here are some basic Cusco travel guide tips for planning a trip to Cuzco.
Cusco Travel Basics
➤ Peru Currency | PEN, also known as soles | Peru currency symbol S/
➤ Languages Spoken in Peru | Spanish | Quechua is the name of the indigenous language that is often spoken by the elderly and in small mountain village communities
➤Peru can be traveled on either an economic backpacker budget or with a lavish budget.
What is the Altitude in Cusco?
Altitude. It's so important to not underestimate the power of the Andes Mountains and the altitude in Cusco. Many travelers will feel it as soon as they step off the plane, or on the winding bus ride from Lima or Arequipa.
The elevation in Cusco is 11,152 feet. I know, shocking, right? The high elevation can oftentimes cause altitude sickness.
In Peru, altitude sickness is more commonly known as "Soroche," which may come in handy if heading to a local pharmacy or "Botica." Altitude sickness symptoms can include dizziness, loss of appetite, sleepiness, shortness of breath, and nausea. Altitude sickness symptoms may be mild to rather extreme. Those who have never experienced living at these great heights should prepare to acclimate for the first day or two and casually explore all the things to do in Cusco.
Altitude sickness can be treated with the local remedy of coca leaves.
Peru Altitude Sickness Tip | Almost all tiendas, markets, and street vendors sell coca leaves. These coca leaves are a staple plant to help fight altitude sickness and can either be chewed or steeped in tea. Many hostels and hotels provide coca tea free of charge. Do as the locals do and use these medicinal leaves to help combat altitude sickness symptoms.
How Do You Get Around Cusco?
Cusco has an elaborate public transportation bus system. At first, it can seem overwhelming, but after a few days, the Cusco public bus system becomes a little less confusing. City buses are cheap and run both in the city and as far as an hour outside the city limits. Buses that run inside the city limits cost S/ 1 (30¢ USD), while buses that travel outside the city are S/ 2 (60¢) .
☛ Local tip | Shout out "baja" when you wish to exit the bus.
However, for those travelers who are feeling a little intimidated by the bus system, it's possible to walk! Cusco is an extremely walkable city. Also, taxis constantly run throughout the city. Taxi prices should be negotiated with the driver before entering the vehicle. Nowhere within the city, even to the airport, should cost more than S/8 ($2 USD).
How Many Days Should You Spend in Cusco?
There really are so many awesome things to do Cusco, so if you have the time, try to spend around a week. Plan on spending at least 3 days in Cusco to make the most of a visit.
One week in Cusco and the Sacred Valley will allow you to see a handful of the top Cusco attractions.
☛ Cusco Itinerary | 5 Unique Cusco Itineraries from 3 days to 1 month
Is the Cusco Tourist Ticket Worth it?
Yes! The Cusco Tourist Ticket may seem like a steep price but allows access to impressive Inca sites and archaeological parks. If you are infatuated by the Inca culture and building techniques, exploring the sites on the tourist ticket is one of the best things to do in Cusco.
Best Things to Do in Cusco & Ultimate Cusco Travel Guide
There are so many incredible things to do in Cusco. Cuzco Peru was once the heart of the mighty Inca empire and now is filled with top Cusco attractions from fascinating Inca ruins, epic mountains, museums, and cultural sites. From its inviting streets, bustling markets, and beautiful plazas, it's hard not to fall in love with this enchanting city in South America.
Besides all the amazing things to do in Cusco, explore the nearby Sacred Valley and South Valley. Travel deeper beyond Cusco and plan a multi-day trek through the Andes that you'll never forget.
Understand that Cusco is so much more than its charming barrio of San Blas and the gateway to Machu Picchu. Spend time here, leave your heart here, and never forget the captivating city that is Cusco.
Have you personally done some of these "things to do in Cusco?" What were some of your favorite things to do in Cusco? Let me know in the comments below!
Disclaimer: There's a chance this post contains affiliate links, and I receive a small (but grateful) portion of the sale. There's no extra cost to you, and I only promote things that I use and love.